The DJI Ronin 2 stabilizer represents a huge leap forward from its predecessor, the Ronin. The Ronin 2 is significantly bigger than the Ronin, boasting a payload capacity of 30 pounds. Longer adjustable arms make it capable of handling bigger lenses, and while it still looks like a bit of a pain to calibrate, DJI has improved the setup process with new locking levers and fine-tuning knobs it says shortens the process significantly.
DJI designed the Ronin 2 to be exceptionally versatile. The Ronin 2 has a quick-release mount that lets you clip it on and off a ready rig, a cable cam, a vehicle or aerial rig, or even a vest that helps take some of the weight off the camera operator's arms. The quick-release system, along with the Ronin 2's stabilization, lets you switch between different modes mid-shot for seamless single takes.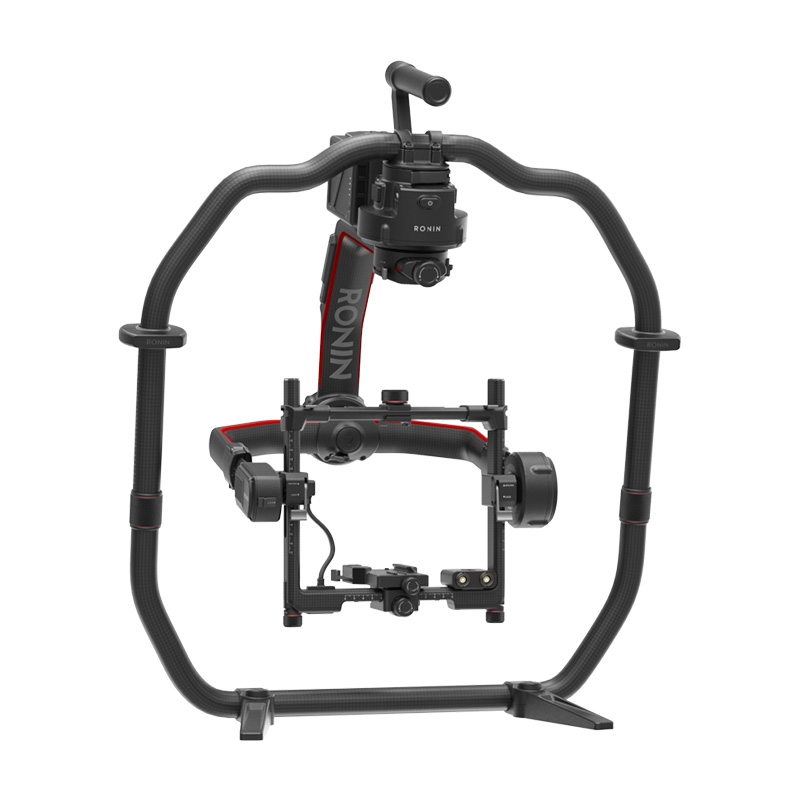 With more powerful motors than the previous version, the new Ronin can stabilize a camera against winds of up to 75 mph (121 km/h) before it starts losing accuracy, which will make it handy for car chase scenes and the like.
The Ronin 2 comes with a super-bright touch screen and an optional joystick-style remote that allows fine control of the shooting, wherever the rig is mounted, from up to 0.9 mi (1.5 km) away. There's also some new panorama mode functionality that allows stills shooters to automate a stitch shooting sequence, taking account of sensor size, lens and the desired amount of overlap between shots.
Like its predecessor, the Ronin 2 features support for Underslung, Upright, and Briefcase operation modes to help you achieve the best angle. However, it has been redesigned to enable easy transition between Upright and Underslung modes without changing the position of the camera. It also offers several other improvements, such as enhancements to the control software and physical design to simplify taking complex shots without sacrificing performance, all while making important functions more readily accessible.
The DJI Ronin 2 is now available for rent at Stay Angel Films. Email [email protected], give us a call or stop in for a demo. We'd love to see you!
Our very own Josh Burrows introduces the DJI Ronin 2: